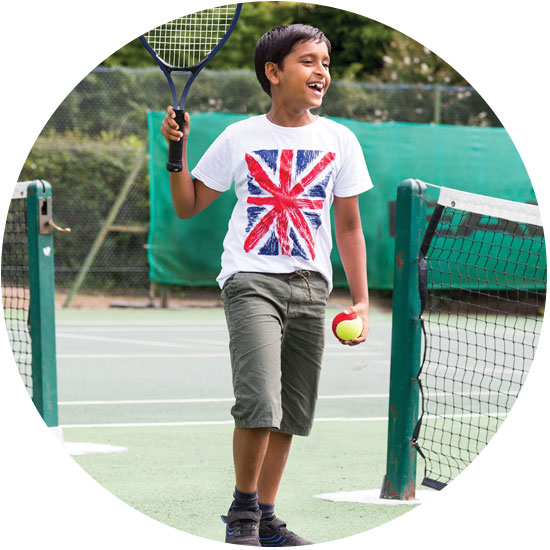 Starter courses for 5-11 year olds
LTA Youth Start introductory courses provide a fantastic first experience for all children aged 5-11 years old where they're guaranteed 6 weeks of jam-packed fun, activity and skills development. The programme is designed to introduce children to tennis, teaching them new skills, helping them make new friends and have a great time doing so.
For just £34.99 (including £5 P&P) every child will receive 6 high quality group coaching lessons with specially trained coaches, a starter pack with tennis racket, balls and wristbands as well as branded t-shirts and rewards for progress.
A whopping 95% have said they were happy with their kids first tennis experience – why not find out for yourself?
East Anglia Tennis & Squash Club (NR2 2NQ)
| Location | Age Range | Dates | Time | Book |
| --- | --- | --- | --- | --- |
| East Anglia Tennis & Squash Club | 6 to 8 years | Thursday 10th March – 21st April 2022 | 16:30 – 17:30 | Book Now |
| East Anglia Tennis & Squash Club | 4 to 6 years | Friday 11th March – 22nd April 2022 | 16:30 – 17:30 | Book Now |
| East Anglia Tennis & Squash Club | 9 to 11 years | Saturday 12th March – 23rd April 2022 | 10:30 – 11:30 | Book Now |
| East Anglia Tennis & Squash Club | 6 to 8 years | Monday 18th April – 23rd May 2022 | 16:00 – 17:00 | Book Now |
| East Anglia Tennis & Squash Club | 8 to 9 years | Thursday 21st April – 26th May 2022 | 17:30 – 18:30 | Book Now |
| East Anglia Tennis & Squash Club | 4 to 6 years | Friday 22nd April – 27th May 2022 | 16:30 – 17:30 | Book Now |
| East Anglia Tennis & Squash Club | 9 to 11 years | Saturday 23rd April – 28th May 2022 | 10.30 – 11.30 | Book Now |
Norwich Parks Tennis
| Location | Age Range | Dates | Time | Book |
| --- | --- | --- | --- | --- |
| Lakenham Recreation Ground (NR1 2HL) | 4 to 8 years | Wednesday 9th March – 20th April 2022 | 16:30 – 17:30 | Book Now |
| Lakenham Recreation Ground (NR1 2HL) | 9 to 11 years | Wednesday 9th March – 20th April 2022 | 17:30 – 18:30 | Book Now |
| Waterloo Park (NR3 3HU) | 8 to 9 years | Saturday 5th March – 9th April 2022 | 10:00 – 11:00 | Book Now |
| Waterloo Park (NR3 3HU) | 9 to 10 years | Saturday 16th April – 21st May 2022 | 11:00 – 12:00 | Book Now |
| Waterloo Park (NR3 3HU) | 5 to 8 years | Sunday 17th April – 22nd May 2022 |  9.00 – 10:00 | Book Now |
West Norwich
| Location | Age Range | Dates | Time | Book |
| --- | --- | --- | --- | --- |
| Lyng Tennis Club (NR9 5RF) | 5 to 8 years | Wednesday 9th March – 20th April 2022 | 16:30 – 17:30 | Book Now |
| Lyng Tennis Club (NR9 5RF) | 9 to 11 years | Wednesday 9th March – 20th April 2022 | 17:30 – 18:30 | Book Now |
| Lyng Tennis Club (NR9 5RF) | 5 to 8 years | Wednesday 27th April – 1st June 2022 | 16:30 – 17:30 | Book Now |
| Lyng Tennis Club (NR9 5RF) | 9 to 11 years | Wednesday 27th April – 1st June 2022 | 17:30 – 18:30 | Book Now |
| Reepham Tennis Club (NR10 4LL) | 8 to 10 years | Tuesday 8th March – 19th April 2022 | 16:30 – 17:30 | Book Now |
| Reepham Tennis Club (NR10 4LL) | 7 to 10 years | Tuesday 26th April – 31st May 2022 | 16:30 – 17:30 | Book Now |
| Taverham Tennis Club (NR8 6JR) | 6 to 8 years | Tuesday 8th March – 19th April 2022 | 16:30 – 17:30 | Book Now |
| Taverham Tennis Club (NR8 6JR) | 8 to 9 years | Wednesday 9th March – 20th April 2022 | 17:00 – 18:00 | Book Now |
| Taverham Tennis Club (NR8 6JR) | 9 to 10 years | Thursday 10th March – 21st April 2022 | 17:00 – 18:00 | Book Now |
| Taverham Tennis Club (NR8 6JR) | 5 to 8 years |  Tuesday 26th April – 31st May 2022 | 16:30 – 17:30 | Book Now |
| Taverham Tennis Club (NR8 6JR) | 5 to 8 years |  Saturday 30th April – 4th June 2022 | 9.00 – 10:00 | Book Now |
Sportspark UEA (NR4 7TJ)
| Location | Age Range | Dates | Time | Book |
| --- | --- | --- | --- | --- |
| Sportspark UEA | 6 to 8 years | Tuesday 1st March – 5th April 2022 | 16:20 – 17:20 | Book Now |
| Sportspark UEA | 9 to 10 years | Friday 4th March – 8th April 2022 | 17:30 – 18:30 | Book Now |
| Sportspark UEA | 4 to 6 years | Monday 18th April – 23rd May 2022 | 16:30 – 17:30 | Book Now |
| Sportspark UEA | 8 to 9 years | Friday 22nd April – 27th May 2022 | 16:00 – 17:00 | Book Now |
| Sportspark UEA | 9 to 10 years | Friday 22nd April – 27th May 2022 | 17:30 – 18:30 | Book Now |