Designed with you in mind
We've got a new website! It's been developed from the ground up to offer the ultimate user-friendly experience with improved navigation and functionality while allowing easy access to view and book tennis.
Created with the you in mind, the site includes many new features to help you to quickly and easily navigate the site and find the venue or tennis activity you need.  New features include: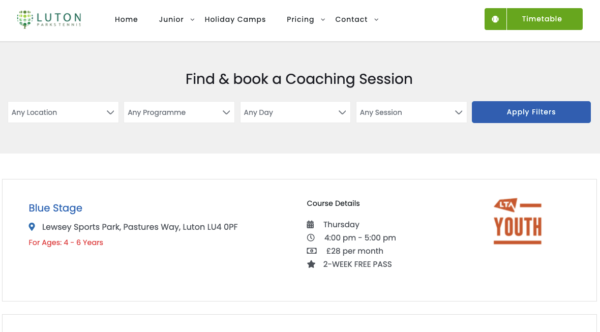 🔍  A better search feature to help you quickly find your closest NTA tennis venue
🖥️. New venue websites which house all the information to get involved in tennis activity
🎾  Coaching Timetable which will allow you to easily find group coaching sessions. The timetable hold more information about the session to give you everything you need.
✔️  New Timetable Filters allowing you to easily narrow down the coaching session by selecting location, programme type, sessiont type, day and time.
✍️. New registration form for group coaching will provide a quick and easy to use registration form to sign up for group coaching.
👌  More indepth information about our support services which will help prospecting tennis venues, local authroties, schools and tennis coaches better understand how we can support them.
💬   LiveChat and KnowledgeBase to provide a more efficient and accessible support service to our players and customers.
We are thrilled to debut our new website to our players, partners and general visitors who are looking to get on court. This website redesign truly enhances our services and the overall experience with our brand as a whole.
The site provides a fully responsive experience, and is easily accessible through all platforms, be it from a desktop browser or a mobile phone. The enhanced design creates a clear customer journey, that allows visitors to access information, online group coaching timetables and a much improved group coaching registration process.
Our website is one of the most important tools we have as an organisation to get more people playing tennis. We hope you enjoy the new and improved user experience and we'll continue to push the boundaires. The site will be constantly updated and imrpoved as time goes by. If you have any comments (good or bad) please do reach out to us!
We'd like to thank the team at Smart Web Agency, based in Wimbledon London, for their expertise in developing this website. They have worked tirelesly for over a year and are highly recommened. We look forward to working with them on our future plans for the site.