Welcome
Cholsey Tennis Club is a friendly club with over 200 members that welcomes players of all ages and abilities. The emphasis at Cholsey is firmly on enjoying tennis and affording opportunities for all to join in.
We offer a professional weekly programme including:
LTA Youth for players aged 4-17 years old,
Individual Coaching
In addition, we offer a number of holiday camps, competitions and fun tennis events for the whole family.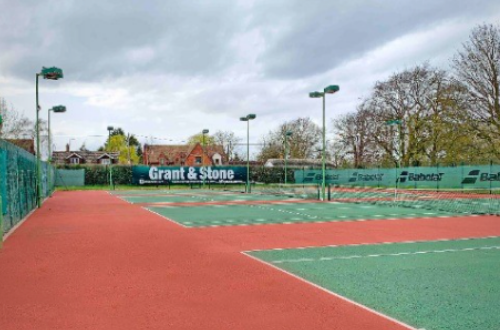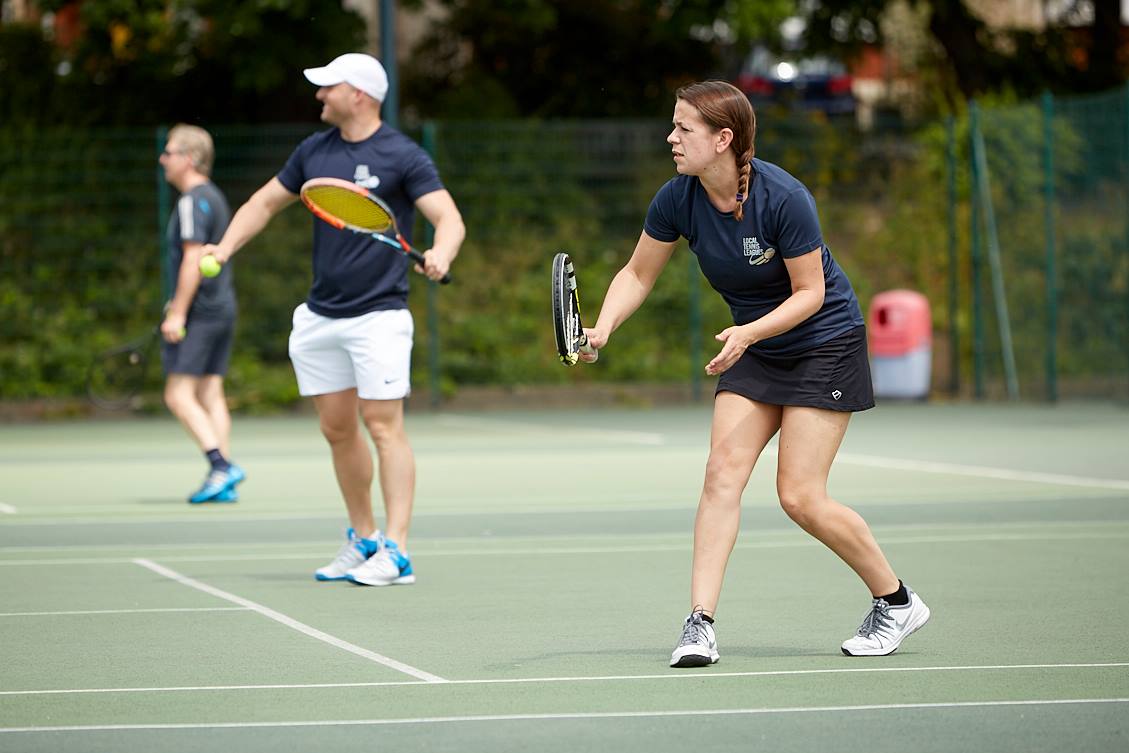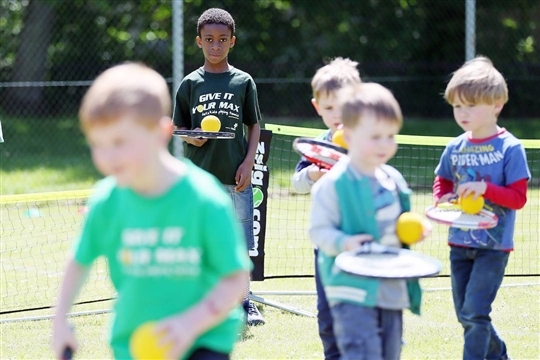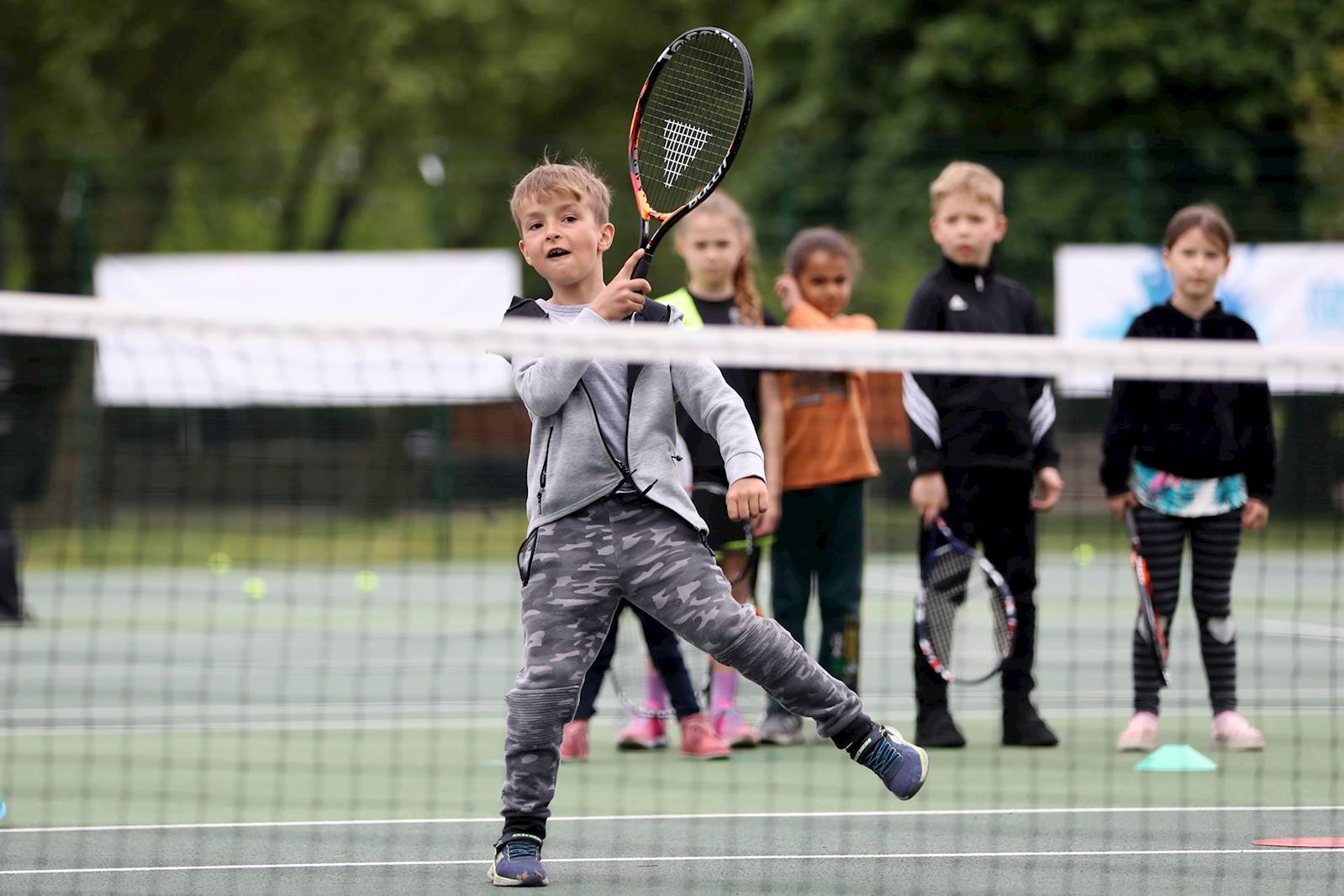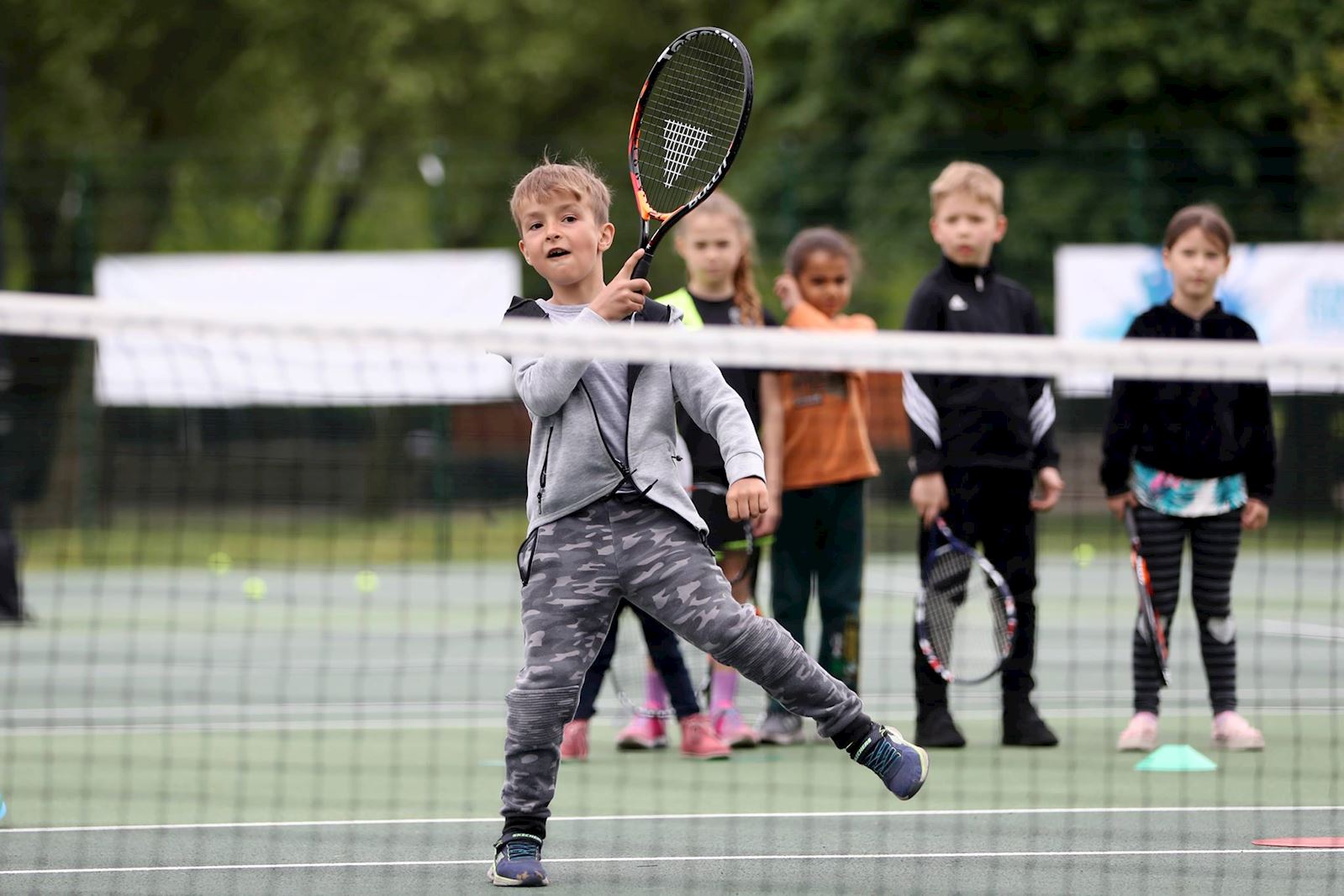 Find & book a Coaching Session
Junior Coaching

Our junior tennis programmes have been developed in partnership with the LTA to help players accelerate their learning and development. In addition, we offer a complete schedule of after-school and weekend tennis coaching for players aged four years old and up.
Coaching sessions run throughout the year, including during school holidays for 47 weeks of the year. In addition, the programme breaks for Bank Holidays, Easter (one week), Summer (two weeks) and during the Christmas break (two weeks). This helps provide a consistent approach to learning and nurturing player development.
Players can sign up for our weekly programme by taking out a Coaching Plan. Coaching Plans help parents and players spread the cost of coaching in one affordable monthly fee so that everyone can enjoy the benefits of professional tuition.
Find a book a two-week free pass below.👇🏾
Find & book a Coaching Session
LTA Youth Tennis
We run courses for children aged 4 – 18, packed full of fun games and dynamic training. We want kids to bring all their energy to tennis; no 'quiet please' needed here.
Never held a racket? No problem, our professional coaches will adapt to each individual, to help bring out their best in a safe, secure environment. All kids need to bring is their creative energy, because the programme is designed to grow as they do. Smaller courts and softer balls develop into the real deal as they pick up all the skills and know-how they need.
It will take your youngster to the next level; you'll see it in their confidence, their skills and even their concentration at school. Not to mention keeping them fit and active. Add some healthy competition to teach them about good sportsmanship (because we all have bad days) and you've got a set of skills for life.
LTA Youth has six stages:
Start: 4-11 years – Introductory six-week course
Blue: 4-6 years – Learn the basics
Red: 6-8 years – Serve, rally and score
Orange: 8-9 years – Develop a rounded game
Green: 9-10 years – Test your skills
Yellow: 10+ years – Take your skills further
N.B. Although we've assigned ages to each stage these are just a guide. We'll always put kids in the relevant group based on their ability.
Start
(Age 4-11)
This is a fun starter course for children who have never played the sport before, or may have played very little. Packed full of fun games and training drills, it also gives parents the chance to join in too.
Blue Stage
Learn the basics (Age 4-6)
This is an introduction to tennis. Here, we'll help kids improve their balance, agility and coordination while teaching them about the sport we love. At this stage it's not about winning or losing, it's just getting to grips with the basics.
Red Stage
Serve, rally and score (Age 6-8)
This will look a bit more like the tennis you know. You'll see overarm serves, rallies and volleys. Coaches will help children to further develop their co-ordination, balance and speed. We'll introduce relaxed competition here too.
Orange Stage
Develop a rounded game (Age 8-9)
Time to throw in some tactics, problem-solving, and guides to sportsmanship and leadership. At this stage, children will know all of the rules and will be serving and returning in matches.
Green Stage
Test your skills (Age 9-10)
This is the big one. It's time for kids to play on full-size courts. Now it's all about growing their game by fine tuning and refining the techniques they've learned so far.
Yellow Stage
Take your skills further (Age 10+)
Time to find your game. Playing on a full-size court with the same size balls the pros use, kids will continue to explore different styles on the court, and start to choose their own.
Private Lessons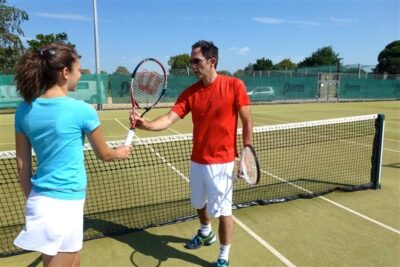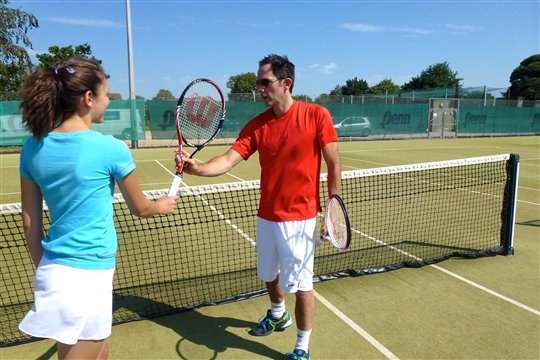 What better way to fast track your improvement than with a one-on-one coaching session – an hour (or two) just for you to develop those areas of your game most important to you!
Individual or small group coaching is a great way of accelerating your learning. Tennis can be a challenging game to master and group coaching is a great way to get started. 1:1 time with a qualified coach can help you improve your game over a period of time. Many players like to supplement their group learning sessions with individuals to get the best of both worlds.
Individual coaching with our coaches will accelerate learning, improve confidence, help master technique, offer the opportunity to give your practice or group sessions a focus, and it's a great workout.
You can choose to go it alone or you may wish to organise a small group (up to 2 players) or play with a friend to share the cost.
To book and for more information please contact us
Holiday Camps

Our Holiday Camps offer a combination of professional coaching, fun games/activities and tennis competition for players of all ages and standards during school holidays.
We create the optimal environment to challenge players at any level of play, whether they want to be the next Roger Federer, looking to try out tennis for the first time, or looking for a fun-filled time on the court. Our focus is to provide a safe holiday camp experience with highly stimulating activities delivered by positive, inspiring coaches.
As part of these camps, you can guarantee a high energy day of tennis and coordination development; our coaching team will teach the children the FUNdamentals of tennis improving technique while challenging their coordination with lots of drills, games and activities.
Recently we introduced a new LTA Youth Team Challenge format to our camps. This is a national initiative by the LTA, a fun competition designed for mini and junior tennis players. Players compete in small teams for points over a short series of challenges, with players receiving certificates, stickers, prizes and medals for their efforts! Each holiday camp will have a different Team Challenge fun theme which will guide the fancy dress and sticker concepts for that camp!
We have two types of camps:
Mini Camps:  

For players aged 5 – 10 years old

Junior Camps:  

For players aged 11 – 15 years old
Pricing:
If you hold a Coaching Plan+, you can access Holiday Camps with 50% OFF (contact us for your discount code). If you do not hold a Coaching Plan+, the camps are £15 per player.
Coaching Fees
Start out with a two-week free pass and then get access to our tennis programme, which runs for 47 weeks per year, in one affordable monthly Coaching Plan.
A Coaching Plan is paid monthly with no fixed term contract; making them flexible and most importantly affordable! After 6-months we'll upgrade you to Coaching Plan+, unlocking a reduced monthly price and discounts on holiday camps (juniors) and Grand Slam events (adults)!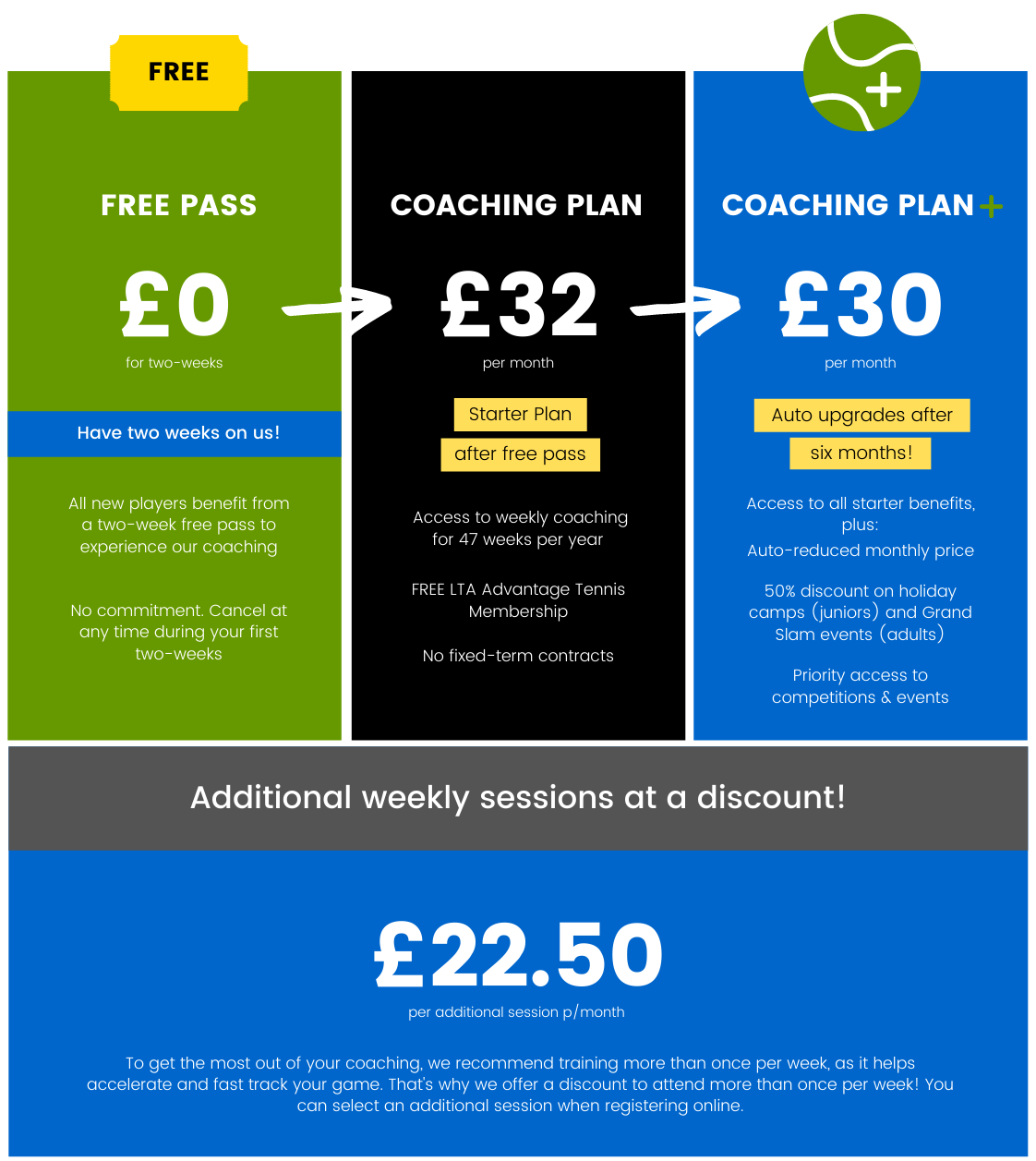 Annual Venue Membership
After completing a two-week free pass, it's a requirement to become a member of the venue. Each venue has different membership scheme, but all are a small annual fee that goes directly to the venue to improve and maintain the facilities to a high standard.
When you register, your welcome email will include information about venue membership, which you can purchase directly with the venue after your two weeks has finished.
If you have any questions about venue membership please contact us
Free Pass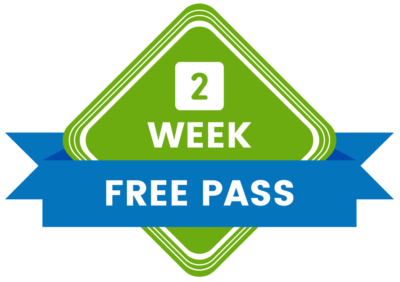 We're so confident you'll love tennis as much as us, we offer a two-week FREE PASS for new customers to try two coaching sessions free of charge! You've got two-weeks from the date of registration to decide if the session is right for you, if not you can cancel at any time during your trial.
How do I register for my free pass?
To start your free pass, simply select your preferred session from our timetable, complete the registration form and payment method, and your set to attend your first session with us!
Why do I need a payment method to start a free pass?
We ask for a payment method to ensure you don't have any interruption to your coaching after the free pass.
You won't be charged during your free pass, and you can cancel anytime. We'll remind you when your free pass is about to end, so you can cancel your account if you'd rather not become a Coaching Plan subscriber. If you choose to continue after your pass ends, you'll be automatically charged one low monthly fee to access our weekly programme and inclusive holiday camps.
*Free pass duration and availability may vary. Available for new and returning players of 3 months only. Offer entitles player free access on two group coaching sessions. Cancel anytime during the pass. Free pass period starts at the date of registration. At expiry standard coaching plan fees, terms and conditions apply. 
FAQs
Below are some frequently asked questions. If you can't find the answer you're looking for please contact us and will respond as soon as possible.
---
How do Coaching Plans work?
Coaching Plans give players access to our group coaching programme in one affordable monthly fee. To join a coaching session(s) on our coaching programme you will need to have an active Coaching Plan.
When you start your tennis journey you'll join us as a Coaching Plan subscriber. A Coaching Plan gives you access to our weekly group coaching programme that runs for 47 weeks per year. You'll be able to access our holiday camp programmes and competitions and you can book and pay online via our website.
After you've been with us for 6-months, you'll automatically be upgraded to Coaching Plan+ and your monthly price with auto-reduce. A plus plan gives you a 50% discount to our holiday camps for juniors and Grand Slam competition events for adults. You'll continue to benefit from this discounted access for as long as you remain an active Coaching Plan+ subscriber.
---
How do know when I have been upgraded to Coaching Plan+?
We'll let you know as soon as you have been automatically upgraded to Coaching Plan+ via email. As soon as you have received confirmation from us you'll be able to book camps and Grand Slam events with a 50% discount code.
I'm rejoining and used to hold a Coaching Plan+ subscription, do I get automatically upgraded?
---
No, sorry! If you are rejoining you'll need to start off on our Coaching Plan subscription. After 6-months you'll be automatically upgraded to Coaching Plan+.
I'm currently a Coaching Plan+ subscriber and looking to join an additional player, do they get Coaching Plan+ too?
---
A player added at a later date will benefit from discounted holiday camps (for juniors) and Grand Slam events (for adults), as well as priority access to events and competitions. You will be able to use the discount codes available to you under your Coaching Plan+ subscription.
However, any player(s) added at a later date will start on the Coaching Plan price, and will automatically reduce in price after 6-months.
Do I have to sign up for a minimum term?
---
No! We are so confident that players will find our coaching enjoyable, affordable and convenient that we offer our Coaching Plans with no fixed term contract.  If in the unlikely event that you would like to cancel your plan, all you have to do is contact us giving us four weeks written a notice to cancel.
If you are a Coaching Plan+ subscriber and decide to cancel, you will lose your free access benefits. If you rejoin at a later date you'll join as a Coaching Plan subscriber and will have to wait for 6-months to unlock Coaching Plan+ benefits.
Is there a joining fee?
---
If you are joining one of our programmes you may be required to become a venue member first.  We'll let you know if there is a venue membership to pay when you get in touch, but don't worry our partnered venue membership fees are extremely affordable.
How many times per week should I play?
---
We encourage players to play at least twice per week to benefit from our coaching. Whether that be attending one coaching session and having a hit with a friend, or attending two coaching sessions per week.
It only costs an extra £22.50 per month to join a second session per week – we offer this discount as it really helps accelerate and develop your game. Andy Murray didn't turn pro training once per week!
When registering online you'll have the option to select two sessions to attend.
Does the programme run during the school holidays?
---
Yes! Coaching sessions run throughout the year, including during school holidays for 47 weeks of the year. The programme breaks for Bank Holidays, Easter (one-week), Summer (last two-weeks of summer holidays) and during the Christmas break (two weeks).
This helps provide a consistent approach to ensure all players continue to learn and progress on the programme throughout the year.
The majority of adult coaching sessions continue to run throughout the year. There are some cases where morning or lunchtime coaching sessions may be rescheduled if they conflict with junior holiday camps.
What happens if it rains?
---
In rain or bad weather, the coach will always be at the coaching venue unless it is dangerous for them to travel there such as in heavy snow. During inclement weather conditions, indoor tennis based activities/quizzes will be provided if the venue has facilities (such as a clubhouse). Where there is no indoor facility and the venue is too dangerous to deliver and play tennis the coach will aim to inform all players no later than 30 minutes before the start of each session of the cancellation.  The coach will reschedule sessions or ask you to attend another session on the coaching programme to recoup the lost session.
Is there a pay and play option available?
---
Sorry, we don't offer a pay as you play option for our junior programme. Players can join the programme by subscribing to a Coaching Plan. This helps us keep our administration costs down which keeps the costs to players at an affordable level.
We also strongly believe that regular attendance on the programme helps maintain the session suitability for the players alongside supporting players improve with groups of players of similar tennis standards.
What is a LTA Advantage Membership?
---
All players signing up for a Coaching Plan will be able to access a free LTA Advantage Play Membership, run by our governing body, the LTA. You will need your tennis number to enter LTA sanctioned tournaments and competitions. You will then be able to view the matches that you have played, and your results, online. You will be notified of a change in your rating or ranking and will also receive monthly updates from The LTA.
For more information  and to sign up click here
Is there any special clothing I need to wear?
---
We are pretty relaxed, but a sports kit and shoes needs to be worn. We have a nice club kit available to buy if players are interested and you can purchase all your tennis kit from our sister company The Racket Factory – www.theracketfactory.com
Is the equipment provided, and do I need my own racket?
---
All equipment is provided during our coaching sessions. If you'd like your own racket, your coach will be able to advise you on the best choice for you and provide one to you at a discounted rate. You can always visit our online shop here if you like to purchase a racket sooner! www.theracketfactory.com
---
If you have any other questions that are not detailed above, please contact us
Get in touch

Need to get in touch with the team? We're all ears.
Safeguarding
We strive to ensure that all children, young people and adults at risk are safeguarded from abuse and have an enjoyable tennis experience.
Everyone who is involved in tennis has a shared responsibility to support this by promoting the welfare of all children, young people and adults at risk.
Reporting a Concern
National Tennis Association (NTA) strongly advise people to read our safeguarding policies and to contact us should they have any concerns.
Diversity and Inclusion Policy
If you have concerns or wish to report anything, you can contact NTA on: 0800 888 6030 (Monday-Friday, 10am-5pm). For further enquiries please email the Safeguarding Team at safeguarding@nationaltennis.org.uk.